Hi!
Watch Me Format
Your Manuscript into an eBook and a Print-ready PDF so you can Publish Indie Style

Greetings, from a fellow author.
You'll find 14 of my books at
Kindle Store
,
Smashwords
,
iTunes
, and
Barns & Noble
. I do all my own formatting, cover design and and illustration (I'm also an artist). I've had a lot of experience, both with my own books and many other people's.
I can format your book. My services to you include:
converting your manuscript into ePub, Kindle, or PDF;
formatting it to look professional,
anchoring the graphic images,
installing a linkable table of contents,
placing the cover and
validating it to make sure it's accepted by places like iBooks, B&N, Lulu.com, Smashwords and Amazon
I can also prepare print ready PDF files (cover and book interior) to submit for printing on demand (POD) to services like CreateSpace.com,
And design a cover and/or draw some illustrations
-- all for a reasonable price (see my
price list
).
My cost For a text only novel of 100,000 words (no illustrations or graphics), would be $50. That would include a linkable table of contents, professional page and paragraph formatting, placing the cover, and making sure that your book is ready to upload to the publishing sites.

I don't just convert your file, I format it so it's up to standard.

To include illustrations, tables and other objects the cost is $1.50 per object. For something of similar quality to the book you see below (about 50 illustrations and other objects) would be $125 for one format -- perhaps $200 if I designed the cover for you as well.
Now This is an eBook! is both my Portfolio and a demonstration of what's possible in an eBook. In it you'll see samples of formatting available in ePub format and the various Kindle devices. You'll find not only my eBook formatting, but samples of my cover design and illustrations as well.
The price list and my contact details are at the end of the book, as well as at the bottom of this page. Just click on the link for format of your choice from the selection below: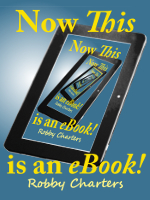 ...or download a Portfolio of my illustrations and cover design:
Outside the Box
Filesize: 3.14 MB
Type: Adobe Acrobat PDF file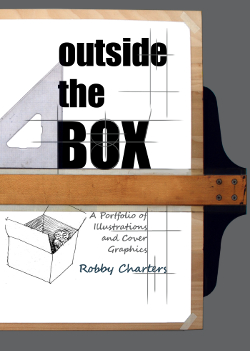 Endorsements:
"Superb job on my book 'Just One Cornetto' by Robby with great patience on his part. Don't hesitate to take up his hourlie."
-- Keith Mashiter,

Just One Cornetto
"... I had no idea how to go about doing this, so you took the stress out of the whole process for me. I am very pleased with the final result..."

-- Andrew Creelman,
Trying to Understand Brazilian Culture
"Robby's excellent service saves me time and effort, allowing me to get on with the most important part of my job - weaving dreams for my readers."
Samples of my cover design: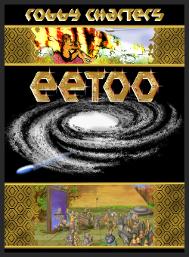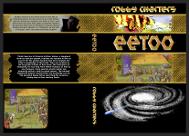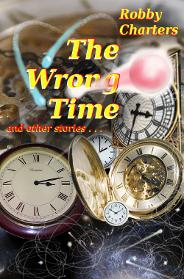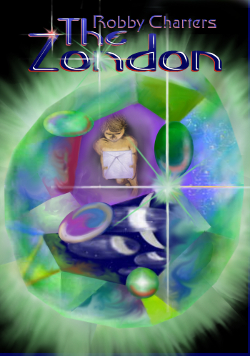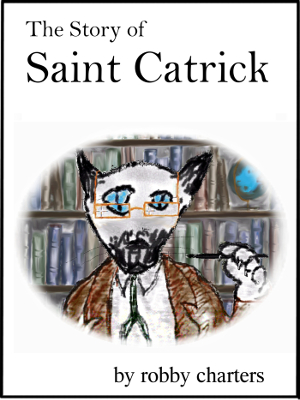 Here's a nice little story you've typed on your word processor ... ah! and you've done some cute pictures to go with it -- or you got a friend to draw them (...or you could get me to draw them)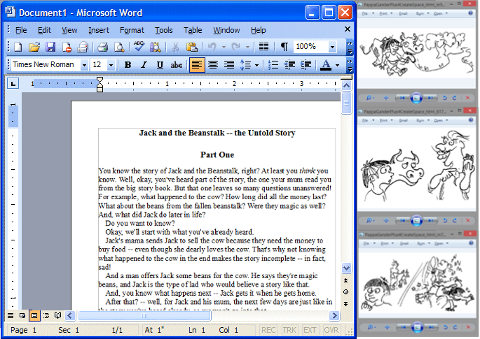 ...now, I'll convert it into HTML format, and load it onto Sigil, a nifty little tool for designing ePub. That's it below.That's HTML code you see there -- yes, the same as they use for building websites.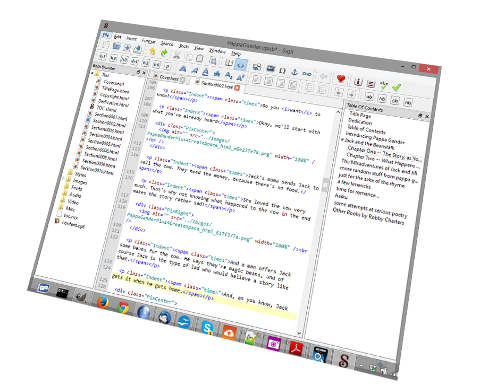 Now, below is how it looks if you switch the Sigil screen from code view (above) to "book view". It's sort of how it should look on any eBook reading device (they're all different). It's not as simple as it looks. A lot of tweaking has to be done.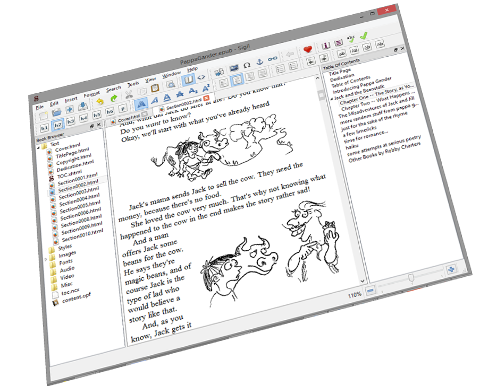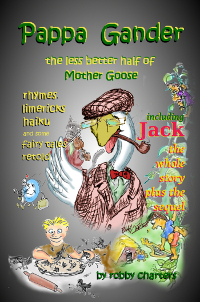 ...but that's not all.
Now, you need a cover image.
That has to be at least
1400 pixels wide, and
about 2150 pixels high.
I can design that for you
too, if you need it.
Oh -- this cover on the left is for a bigger book that includes our retold story of Jack and the Beanstalk
Once I've got the ePub finished, we can release it for iBooks, Nook, Sony, the Androide devices (or simply upload it to Smashwords.com, which will do all that for you), and then I also take it and convert it to Kindle. Look, there's your book below, Android on the left, Kindle on the right...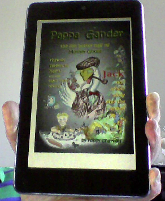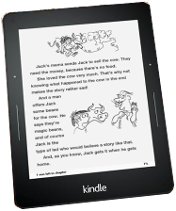 Or -- how about releasing it in Print? Here's another of your books just fresh off your word processor -- and look! You've begun each chapter with a Haiku!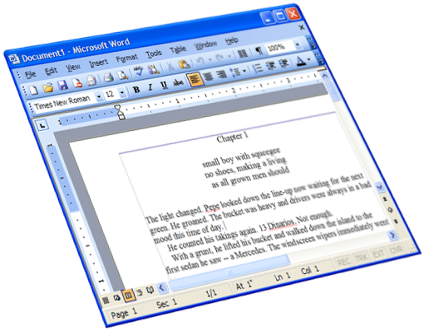 ...There! I've formatted it for you, and got you this PDF file below, which you can upload to CreateSpace.com for Publishing On Demand (POD) -- but you'll need more...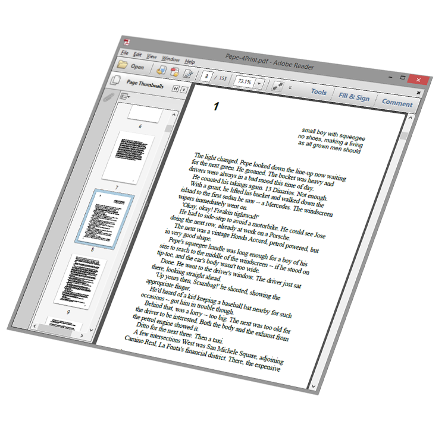 ...you need a cover. You've got a friend to design it for you in 1600 x 2600 pixels (which is about the minimum size for a print edition -- a bit larger than we'd need for the eBook edition). Alternatively, you could get me to design it all for you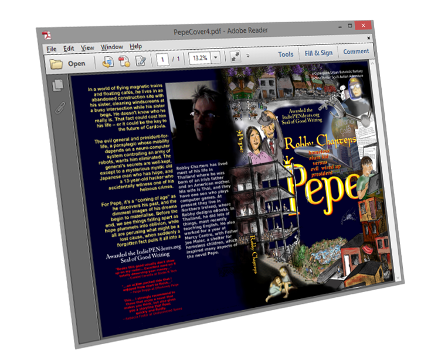 What we need to do then, is design a back cover and a spine. The back cover is where you'll put the book blurb, author's bio (that's you) and your photograph...
...and -- ta da! There's your book!